FOR IMMEDIATE RELEASE
For Further Information Contact:
Jodi O'Dell, Communications Coordinator
The Sam & Adele Golden Gallery, 188 Bell Road, New Berlin, NY
October 12, 2019 – March 13, 2020
Opening Reception October 12 from 4:30 p.m. – 6:30 p.m.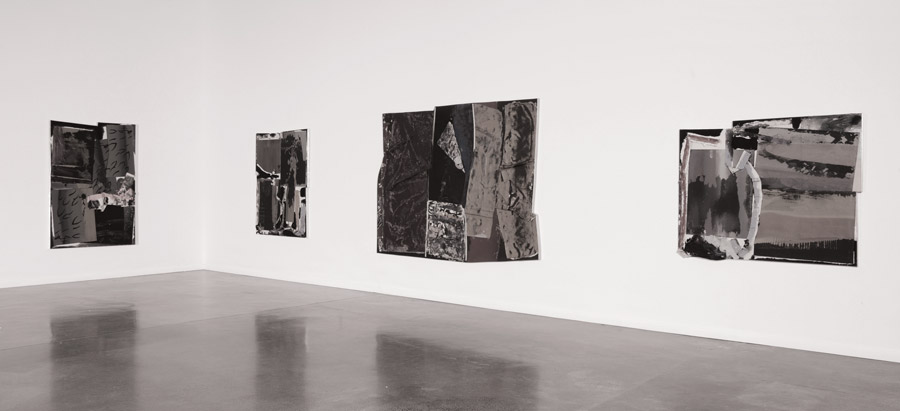 BLACK IS A COLOR is an exhibition of paintings by artist Susan Roth to be held at the Sam and Adele Golden Gallery, 188 Bell Road, New Berlin, New York, on Saturday, October 12, 2019 with a public reception for the artist between 4:30 p.m. and 6:30 p.m.
Susan Roth, a self-described non-objective painter, offers challenging eccentric outer profiles in many of the paintings in the show. The fourteen acrylic paintings exhibited range in date from 1982 through 2019 and trace her unique and individual approach to the shaping of the canvas as it responds to the compositional elements within.  Roth takes full advantage of the range of acrylic paints and mediums and had the opportunity to work closely with Sam Golden to create new products.  Her paintings contain collaged canvas elements as well as the low relief provided by the acrylic paints.
Apropos of the title: BLACK IS A COLOR, Roth has used black in her paintings as a through-line for emphasis on the consideration and emphasis on drawing in her working method.  The richness and depth of black pigment provide an assertive way for her plumb the compositional depths.
The title BLACK IS A COLOR reprises that of the post-World War 2 inaugural exhibition held in 1946 at Galerie Maeght in Paris entitled le Noir est une Couleur.  Susan Roth has held close the idea of that exhibition as being one of the touchstones of modernism.
Gallery hours for visiting the SAGG are Monday through Friday 9:00 a.m. through 4:30 p.m. at the Golden Artist Colors factory.
BLACK IS A COLOR continues through March, 13, 2020.
About Golden Artist Colors, Inc.
Golden Artist Colors, Inc. is a manufacturer of artist quality materials including colors and mediums for painting in acrylics, oils and most recently, watercolor. With two locations, a 100,000-square-foot facility in rural Columbus, N.Y., and a 45,000-square-foot commercial warehouse and distribution center in Norwich, N.Y., the company's 225 employees are committed to producing materials that encourage exploration of form and concept, while assuring archival integrity. The GOLDEN brand of acrylics is known for quality and archival integrity as well as being the most innovative and extensive system available. The company also owns Williamsburg Handmade Oil Colors, which is known for its quality and extensive palette of colors including genuine Italian and French earth colors. QoR®, a new, thoroughly modern watercolor is made with an exclusive Aquazol binder, providing color strength, range and versatility unmatched in the history of watercolors. Furthermore, the Custom Lab at GOLDEN serves artists and organizations by formulating materials to fit their needs and purposes. Not only committed to its customers and local community, GOLDEN is dedicated to its employee owners as well. In April 2010, GOLDEN employees became the majority owners of the company. For information about Golden Artist Colors and its complete product offering, call
1-800-959-6543 or visit goldenpaints.com, williamsburgoils.com or qorcolors.com.
###