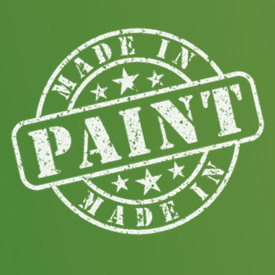 For each of the last 7 years, we have waited with great anticipation for the Residency season to begin, hoping that what we have to offer here will be a worthwhile experience, filled with experimentation, wonderful ambition, exciting work and new friendships for all of the artists who have agreed to join us in Central, NY. Last year, we reached one of our most important milestones for The Sam & Adele Golden Foundation for the Arts: We were able to announce that all accepted residents would be able to attend at no charge. This was due to the amazing support from all of our friends locally and from around the world, from family, and from the employee owners of Golden Artist Colors.
Not only were we able to support the delightful 18 artists who we now celebrate in our 7th Made In Paint exhibition, but our Residency was full the entire year, with visiting artists, and teaching artists supported by our partnership with the Alliance for Young Artists & Writers. Another milestone was reached this past year as well when we were able to hold two Residency sessions for our alumni artists from previous years.
In this exhibition, we honor the hard work and dedication of these amazing professionals. Clearly, their works highlight the diversity of expression and talent among these artists who believe that the substance of paint continues to excite and inspire new ways of using, in some cases, these ancient materials. As a paint maker it remains for me, even after 39 years, a thrill to see that there is no end to the ways in which these materials are stretched, expanded, repurposed, responded to and reinvented, not only in the creation of new works, but also in the reconceiving of images from our historical past.
The artists in Residence, joining us from places around the world, have given us something else in this very small and seemingly isolated area. They have shared a level of diversity that has inspired our entire community. Each month we hold an Open Studio event towards the end of the Artist Residency and we invite our local community to attend. I am so inspired by the reception these artists receive. What has been clear over these many years is that although we may be a small, rural community, we have an incredibly passionate and creative audience that continues to be inspired by the opportunity to meet with and engage with these remarkable artists.
We are so honored that these artists have given us the permission to be part of their process; to be able to watch work unfold, to provide support, recommendations, or new materials. But most of all we are warmed by the many friendships that have formed during our time together; friendships with one another, friendships with our family, friendships with the many support staff and Material Specialists that each Resident has been able to communicate and work with. Just as we have been invited each year into this exciting world, we extend an invitation to you, to join us in viewing the artwork of our 7th Made in Paint Exhibition.