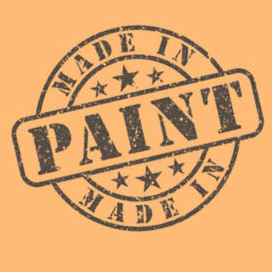 This year 2020, Golden Artist Colors is celebrating its 40th year of making colors for the most creative artists in the world. With all this company has accomplished, our greatest accomplishment has been launching the Golden Foundation Residency.
As a 26-year-old, delivering paints to artists, it was a thrill to visit the art studios of so many of my heroes. There, I would get a glimpse, a snapshot, of what was happening in their studios. To collaborate for a few minutes together as we discussed what might lead to new products or other creative solutions to issues they presented. Now at the Residency, our artists get to share with a team of folks their particular interests and areas of investigation. And we get to have these artists in our lives for four weeks; to be able to experience the more complete picture from the genesis of the idea, through its process and finally, the finished work.
As thankful as the artists who have joined us in the Residency might be to have access to the widest range of materials and all sorts of critical technical resources, it is truly all of us here at the Residency and at Golden Artist Colors, who are the beneficiaries of their time here. They graciously permit us to participate in their investigation, allowing us into what is often a very private process.
The artists who have again joined us this past year have all inspired us with their commitment to the work. As I pass by late at night, I often see all the lights on in the studios, knowing that each moment is a precious time for them to be working. It has made it even more urgent for all of us to make sure we create that dedicated space and time to allow them to experience as much as possible, all thrust into what really is a short four weeks.
To all our Residents – thank you for making this such an exciting experience for all of us. You have been the source of inspiration for our family, the Company, its Employee Owners, and our entire community. We are privileged to be able to support 18 incredible artists from around the world each year, who share their gifts with us all.
This year also marks the 23rd year for our family foundation, the Sam & Adele Golden Foundation for the Arts. It was a year of difficult and amazing transitions. This past year our sister, Jo-Ann Golden, our Golden Foundation Treasurer, succumbed to a decade long struggle with breast cancer. She was instrumental in helping us guide the Foundation towards the Artist Residency and so proud of its accomplishments. It was also the year Emma Golden, our Program Director for the Foundation, and her husband Joe Schmitt, gave birth to our first grandson, Oren Golden Schmitt.
Maybe it was with Jo-Ann's passing or maybe with being a new grandfather, that I recognize the importance of making a difference. Samuel Johnson said "To do nothing is in every man's power." My sister was a doer, fighting for human rights, civil rights for the LGBTQ community, for environmental and economic justice. Jo-Ann taught us all that we had to stand up, to do something, to be counted. And Oren has made us even more aware that we can't wait for others to fix things, it is up to us to make a difference.
- Mark Golden
To navigate in the main gallery, click and hold the mouse button while dragging left or right. Click on any painting to open a detail of the painting. Click the detail of the painting again to close. Use the scroll button to zoom in and out.