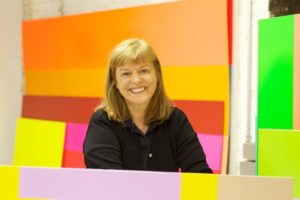 Emeritus Professor of International Media Studies, Robert Seward Interviews Artist Ann Walsh
 February 18, 2019 at 4:00 p.m.
The Sam & Adele Golden Gallery, 188 Bell Road, New Berlin, NY 13411
Public Invited to Attend. RSVP by Feb. 5 to jodell@goldenpaints.com or call 607-847-7671
The public is invited to attend an interview featuring New York City Artist Ann Walsh on February 18, 2019 at the Sam & Adele Golden Gallery (The SAGG) at Golden Artist Colors. Emeritus Professor of International Media Studies, Robert Seward, will explore Walsh's career and artwork featured in her current exhibition 'Ann Walsh: Colors,' in an interview at 4:00 p.m. The exhibition 'Ann Walsh: Colors' opened on Saturday October 6th, 2018 at The SAGG and runs through March 15, 2019.
This survey of abstract paintings and sculptures by artist Ann Walsh underscores her commitment to the expressive possibilities of color and her investigations of the use of new materials for making art.  Walsh has lived in New York City and maintained a studio there since 1980. An illustrated catalog with an essay by artist and critic Franklin Einspruch entitled, "Ann Walsh's Mechanics of Color" will be available at the interview for attendees.
In his essay about Ann Walsh's works in the show, Franklin Einspruch states, '... a Walsh is orienting, emphatically so.  In particular it orients the viewer to a surface, with implicit, spinal-cord-level instructions to regard it aesthetically.'
Seward has lived and was a professor for 24 years at Meiji Gakuin University in Tokyo.  As emeritus professor of international media studies, Seward has written essays on art for museum catalogues and other publications.  Previous to this position, Seward was the Sponsored Research Administrator at Courant Institute, New York University.  Seward received his Doctorate in Political Science at the University of Oregon.
An accomplished artist, Seward studied ceramics at the Philadelphia College of Art and at Parsons School of Design.  He currently lives in Cooperstown, NY, where he has a studio.  Seward has been working with Sydney Waller at The Art Garage gallery for the past 3 years, moderating engaging and informative interviews with artists for the program.
To learn more about Walsh and her artwork, visit http://www.ann-walsh.com/index.htm. Go to The Sam & Adele Golden Gallery website, www.thesagg.org for more information.  Visiting hours for The SAGG are Monday through Friday 8:30 a.m. to 5:00 p.m.